---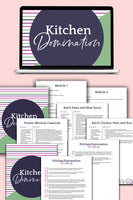 Finally Got A Handle!
I'm a "veteran" mom. My 6 kids range in age from 13 to 26, and they're all still living at home! So mealtime is rough.
I'm so grateful for this Kitchen Domination course. I feel like I've finally found the answer to keeping mealtime sanity!
Thank you Ashley!
Smart Cooking
I love how this cooking method is not just one type or the other. It's not just batch cooking, not just freezer cooking, etc. It's smart cooking—using a variety of methods that use the least amount of a mom's time. Thank you!
Great stuff!
I had a good grip on my kitchen to begin with: menu planning, shopping, kids cooking, bulk freezer cooking, etc. already in place. I felt that I have to spend too much time in the kitchen though! (Some of that IS the nature of feeding 10-11 people 3 meals a day...) Ashely has given me permission to lighten up on some of my "meal standards", and keep it simple more often. She also gave me the boost I needed in the getting-more-veggies-in department. It's easy the KD way!
I am excited to see Ashley teaching all the things I keep trying to sell the young moms around me on! ('Great minds' and all that...😁) This is PERFECT for anybody regularly doing the 5 P.M. scramble! It's easy to "dominate" with a few lessons.
Take your kitchen back!
I realized, when my kitchen is in dismay, my whole house falls behind with it. We didn't eat out a lot but I found myself grabbing the easy stuff (meaning unhealthy) and throwing in the oven. This course teaches you how to take back control and having a solid plan. Plus the recipes that come with it are amazing!