---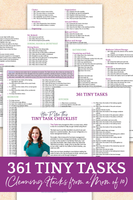 Save yourself a LOT of time!
What a through list! And what a great way to save myself a ton of time compiling my own! My kids now brag about completing Tiny Task #__. 😄
Great List for the Price!
I was so happy to buy this on a great sale and look forward to using it to tackle less-cleaned areas of my home! :) Thanks.
No more guilt and shame!
I have ADHD and have SUCH a hard time being productive. It's the typical..."so much to do I can't even start bc I'll never finish"...overwhelm, followed by extreme guilt bc I feel lazy as heck and set a terrible example for my kids.😮‍💨
This list is so exciting for me!
A. It helps me have a visual on how much I actually DO and,
B. It breaks things down perfectly for my anxious neurodivergent brain!🤯
Thank you so much Ashley!🥰
So helpful!
This is such an amazing resource! When I'm having one of those days when I don't even know where to start, or I feel like I don't have time to do anything, pulling out this list and doing a couple of no-brainer tiny tasks gives me such a sense of accomplishment. Thank you!