---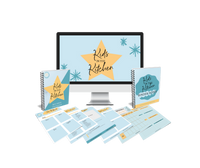 Love Kids in the Kitchen!
I was convinced I was the only one who could use the kitchen. I did the Kids in the Kitchen course and never looked back!! I have 4 kids, 3 old enough to cook (some with more assistance). Now the 3 all have one day a week they are responsible to feed the family 3 square meals leaving me only doing the cooking 4 days a week! Highly recommend!
Such a great tool
I question whether or not to get this because four out of five of my kids are too old for this course.
But not only is it good for kids of all ages if they just want to get some more tips in the kitchen. My seven-year-old is in love with this course and the recipes!
"I'll make breakfast Mom!"
My "picky eater" cooks for me now and it takes care of the picky problem for him to experience being in the Cook's shoes. I am so happy to be teaching my kids to cook, and they are so happy as well. My six and eight year old boys each have their own recipe binder with their personal recipes that they know how to make. That binder represents wonderful bonding time in the kitchen, and a set of skills that leaves them confident and equipped.