---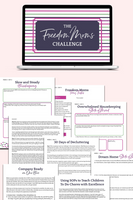 Heaven-sent
I can't say enough about this course!! I was in deep and had lost all hope for ever having a clean house and getting my kids to help me. I wish I had known about this years ago!! I am so grateful for Ashley and all the work that she's put into helping us find our way. This has brought so much joy into my life and into our home. Thank you thank you!!!
Such a great value with everything included!
I love how she breaks everything down into small steps! It's so easy for me to get overwhelmed and only looking at 1 thing helps so much.
The most practical system out there!
I've tried a few different home management systems, but Ashley's has been the one with the most helpful steps that have actually stuck. It's a gentle, grace-filled approach that actually makes having a tidy, uncluttered home attainable. The Freedom Moms Challenge is perfect for the busy mom who can't devote hours on end to cleaning as well as for those who don't enjoy cleaning & organizing.
Great Program!
As a mom of 8, I struggle with a solid routine and making sure all the normal tasks are done on a regular basis. Our kids have chores, but there are a lot of things we just seem to always keep getting skipped.
Purchasing this program gave me a renewed idea of what is expected of ME. I, personally, got in to the habit of letting the kids do all of the chores. Now, we have more of a team effort as I focus on other areas while they do theirs. Additionally, the 30 day decluttering bonus has helped me to continue to tackle the clutter, but at a manageable rate.
I highly recommend this program for everyone. It's a series of simple steps anyone can implement to make a big change in their lives!
Success at last in making a dent in the clutter and the smudges on the walls!
I thought about this product for over a month. I wish that I had bought it sooner! I've had it for less than two weeks and it has changed my life and my home. Ashley speaks my language! As a homeschool mom of five, I have been in perpetual chaos mode, never knowing where or when to start decluttering and cleaning. Ashley simplifies things by giving tasks that can be done in as little as 30 seconds to as long as 15 minutes. Her ability to break tasks down and to show where and how we can find time to do them is revolutionary. Before this program, I tried other plans that simply gave me a "to do" list. While that's great for some people, I never figured out how to find time to do the things on the lists. Ashley's help is motivational; she combines working on mindset transformation with actual ways to execute getting our homes in order. I'm already seeing so much progress and am finally able to tackle hard jobs in bite sized increments that don't leave me feeling overwhelmed. I am confident that I will soon be able to finally invite people over without being embarrassed at our mess.