---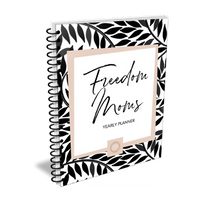 Love love LOVE
I have such a busy schedule. Mom of 2, working remotely, and volunteering for Girl Scouts and Boy Scouts. I can't say enough about this planner. I have tried many before this, and none really seem to 'get' me. This one just works! And I'm totally not an organized person, so saying how this actually gets me organized, is saying quite a bit. Definitely worth it!
Fantastic Home Organization
I love this abs simply cannot say enough good things about it. I imported it into GoodNotes instead of printing it. This makes out available for me on my MacBook, iPhone and iPad. I love that I can duplicate kid specific pages easily and have them at my fingertips. This makes it super easy when I am somewhere where I need to sign my children up for something, because I can easily and readily have information for forms etc. I use many of Ashley's courses abs this planner helps me To implement at home, and makes it easier for me to have all of my family members to do the same
Great layout
I love the big picture overview of the year by months and each month individually. I also like the having both the hourly breakdown of my day and my to do list on the same page. Took one star off only because the space to write is so narrow you have to write very very small. If you could type into the pdf and print it the spacing would be perfect, but to write by hand it's crowded.
Perfect Companion to the Program
I love that this planner helps me execute all that I've learned in Ashley's program. The laundry tracker and meal plan especially keep me and my home running smoothly!
The Freedom Moms digital yearly planner, so you have all the checklists you need at your fingertips for every day use!
This planner has no dates printed, you write them in yourself, which means...no pages are ever wasted, and you can use the download year after year!
You can print this out one month or week at a time, or all at once!
The planner includes:
A birthday list
A page to keep track of your children's current clothing and shoe sizes
Your year at a glance
Monthly Calendars
Weekly Calendars
Weekly Grocery List
Weekly Habit Tracker
Weekly Laundry Tracker
Weekly Chore Tracker
Weekly Meal Plan
Weekly To-Do List
No refunds.