---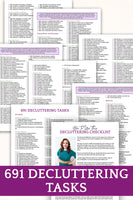 Sale
Decluttering Tasks is a gold mine!
I love Ashley's decluttering tasks, I get overwhelmed with the clutter in my home, having someone break it down into manageable, accomplishable steps is a godsend! Getting rid of clutter frees up your mind to think clearer and everyone in the house feels that affect. You will be so glad to get this valuable tool for reaching and maintaining a peaceful home.
Great ideas to keep me focused!
I love this comprehensive decluttering list. There are so many tasks that I can tackle in the small pockets of my day. Thank you for creating this!
Very helpful
It's easy to get overwhelmed when I think about the whole house. But the decluttering checklist helps break it all down into manageable pieces.
Wow, wow, wow.
It's so noice to have a list that didn't require my brain! I'm blown away by this
Excellent resource at a great price !
This is an excellent resource at a great price - highly recommended!